Create and plan your virtual Event in minutes. Get your Event published and start selling tickets today in six easy steps.
Watch this video on how to create your Event:
Or find out about how to create an in-person Event.
Still need more detail?
1. Create your Virtual Event
Create an Event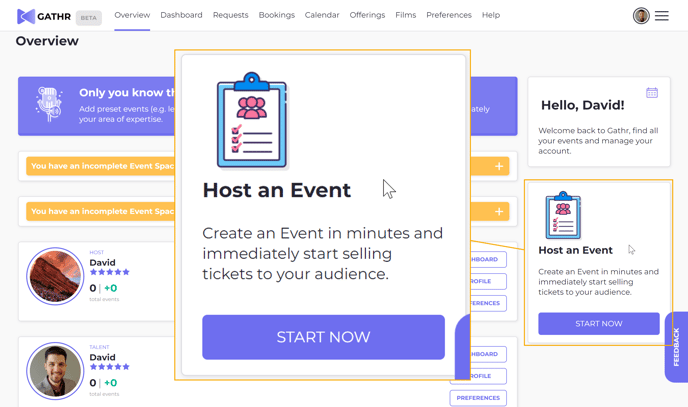 2. Set Up Your Event
Fill in some basic information about your Event.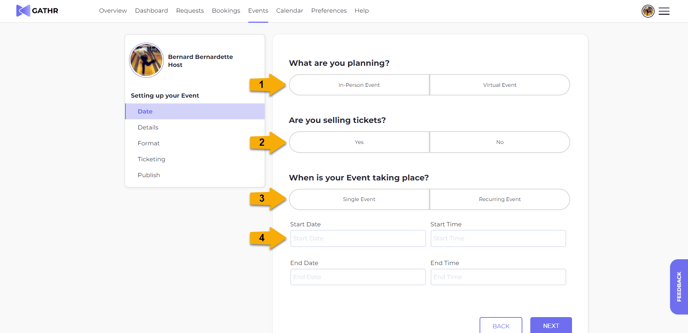 Event type- Plan a virtual Event.
Ticketing - Choose to sell tickets or have a free Event.
Single Event or Recurring Event - Is this a one-off Event, or does it repeat more than once?
Event time/date - When will your Event happen? Outline start times and dates.
Planning a multi-day virtual Event?
Some Events start on one date and end days after. For example, a conference or a convention runs from Friday, July 1 at 9:00 AM to Sunday, July 3 at 4:00 PM. To host a multi-day event, set your Event Start Dates/Times and End Dates/Times accordingly:

Throughout your multi-day virtual Event, Attendees enjoy free re-entry to your Event Watch Page. Be sure to detail your Event schedule in your Event Description when you
create your Event page
, so your Attendees know what's happening and when at your Event.
3. Create your Event page
Build interest in your Event by adding a cover photo, title, and other descriptors.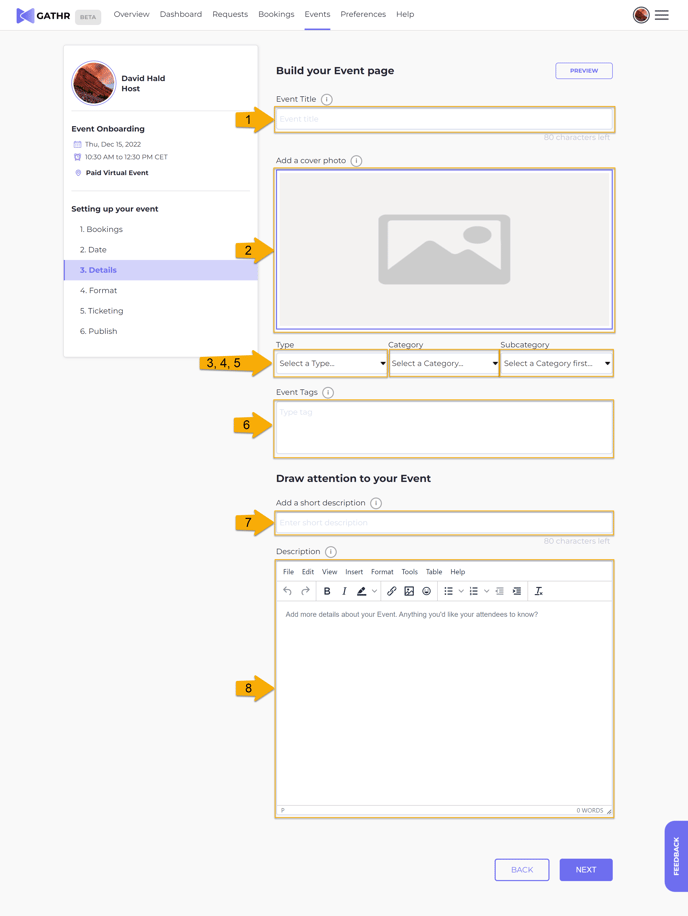 Event Title- What's your Event called?
Cover Photo - Add a photo to display on your Event page.
Event Type - What kind of Event is it? (required)
Category - Be specific to attract your target audience (required).
Subcategory - Give your audience an idea of what they're attending (required).
Event tags - Add keywords to set off your Event in search results (optional).
Short Description - Give a summary of your Event.
Description - Give details about the Event you want your audience to know.
4. Set Your Livestream Preferences
Shape Attendees' Event experience.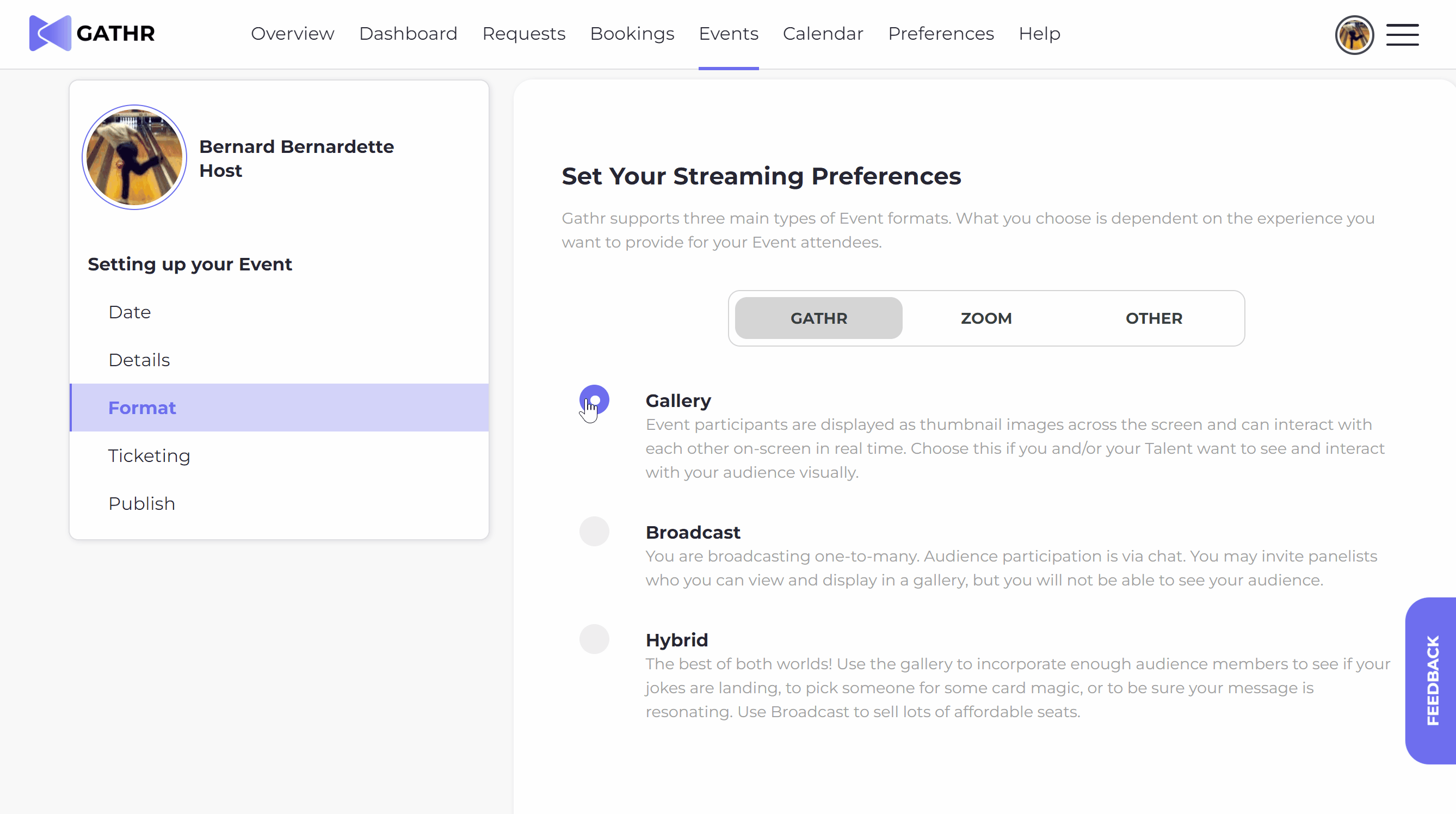 Choose from these live stream options:
Gathr
Gallery - Attendees are visible in thumbnails on-screen; Attendees and presenter/Talent can visually interact.
Broadcast - Only Presenters/Talent are visible during your Event. Your audience can participate via chat. You will not be able to see your audience.
Hybrid - Offer both Gallery and Broadcast experiences to your Attendees.*
*Hybrid Format not available for Free Events.
Zoom
Easily link your Zoom account and automatically create your Zoom Event from Gathr or enter your Event information manually.
Other
Vimeo Live or YouTube Live - Embed your live stream directly onto the Gathr Watch page.

Twitch, Google Meets, Facebook Live - Live stream from your preferred platform. Your Attendees will be redirected to the link you provide.
Still unsure which Format to choose? Discover which Event format is best for you:
5. Enter Ticketing Information
Each Virtual Event format has unique ticketing options. Learn which Format and ticketing meet your needs here: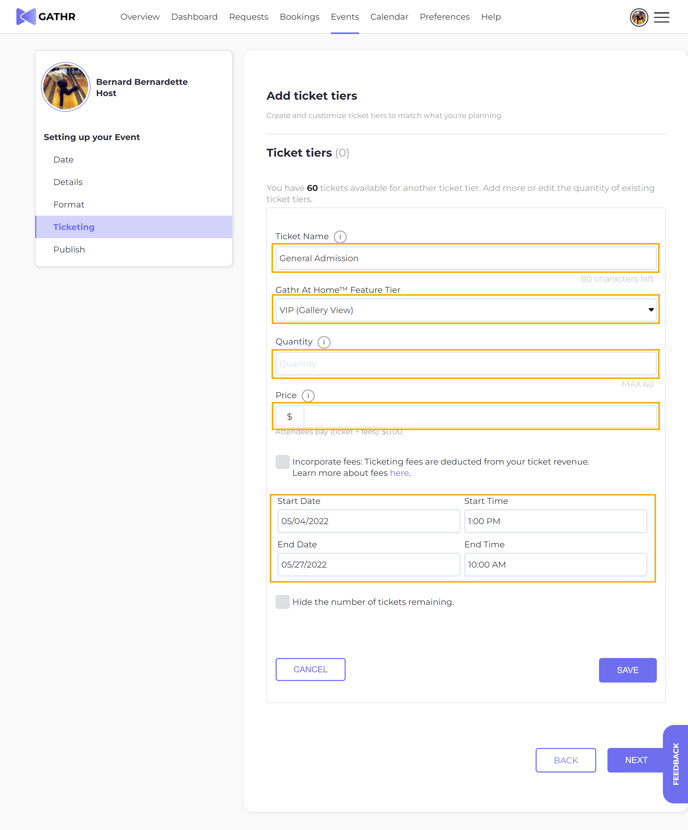 Name ticket tiers - Attendees are used to seeing different ticket tiers. Some standard ticket tiers are:


General Admission - Regular tickets
VIP - Offers Attendees something extra for a higher price.
Early Bird - Offers Attendees a discount for purchasing tickets earlier.
Student/Senior/Children/Member Price - Offers a discount for Attendees who are part of a specific group.

Set ticketing tiers - add multiple ticket tiers to your Event according to your chosen format.
Choose Quantity

Gathr

Gallery Format - 190 maximum Attendees.

Broadcast Format - 10000 maximum Attendees.

Hybrid Format - 10000 maximum Broadcast tier Attendees; 190 maximum Gallery tier Attendees.

Zoom

Other

Vimeo Live, YouTube Live

- 10000 maximum Attendees.

Twitch, Google Meets, Facebook

Live - 10000 maximum Attendees.



Learn more about Event formats and Ticketing:
Price - Set your ticket price if it's a paid Event.
Start and End Time/Date - Adjust the Start and End Times/Dates of your ticket sales to create dynamic ticket pricing for your event and encourage Attendees to purchase tickets sooner rather than later.
Examples of dynamic ticket pricing:
Your Event is on December 15, and you decide to offer:


General Admission ($20) from November 1 - 30
VIP ($50) from October 1 - December 1
Last-Minute ($25) from December 1 - 15.
6. Publish your Event
Make your Event Public or Private.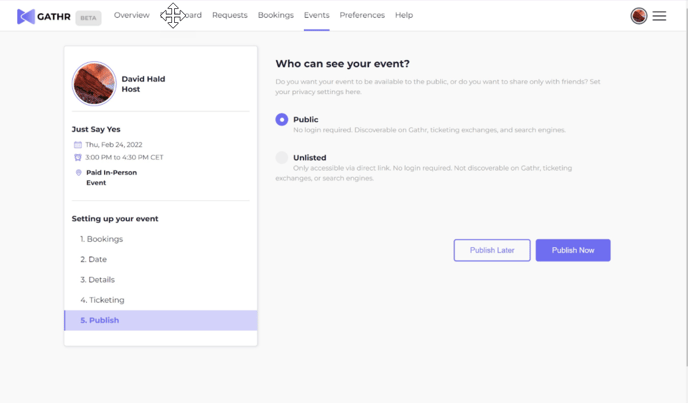 Privacy Settings

Public - anyone with the link can view the Event page, or find your event on Gathr.com, via search engines and ticketing outlets.
Unlisted - your Event won't be discoverable on Gathr.com, search engines, or ticketing outlets.


---
🎉 You're almost done! 🎉
The last step is to Publish your Event.
Publish Now
Go live with your Event.
Event Page is visible on Gathr.com, via search engines and ticketing outlets.
Applicable ticket tiers are available for sale.
Publish Later
Add the finishing touches later.

The event page is not visible yet.

Cannot sell tickets yet.
Other limitations.