If you have a daily class, a weekly workshop, a monthly seminar, or another Recurring Event, find out how to set it up and start selling tickets in minutes.
2. Set up your Recurring Event
4. Live stream Preferences (Virtual Events only)
1. Create your Event
Create an Event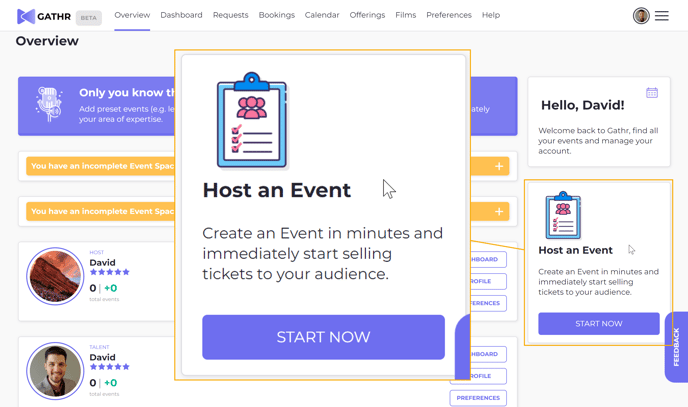 2. Set up your Recurring Event
Fill in some basic information about your Event.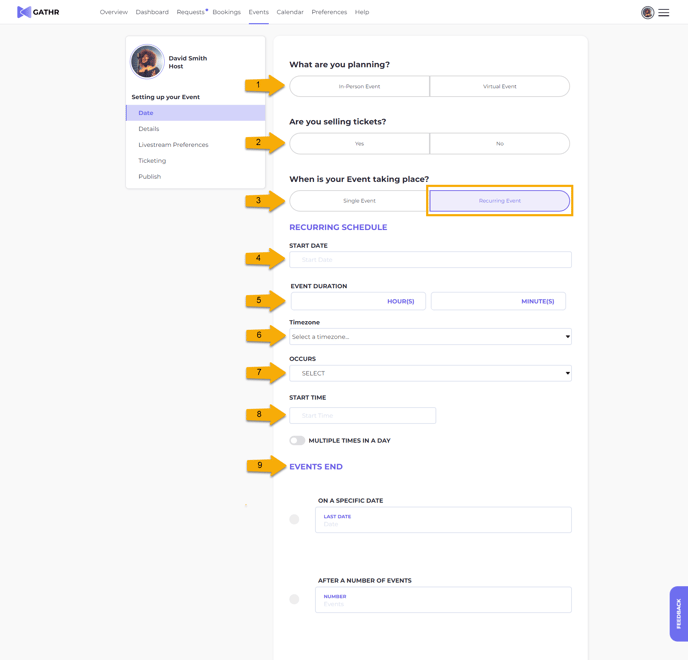 Event format- Select either a virtual or an in-person Event.
Ticketing - Choose to sell tickets or have a free Event.
Choose Recurring Event - For repeating classes, workshops, tours, or anything that happens regularly, select Recurring Event.
Event start date - When will your Event start? Choose the date from the calendar.
Event duration - How long is your Event? Input the length of your Event. For Events less than one hour long, enter "0" for hours and the correct number of minutes.
Time zone - Enter your preferred time zone. Usually, this is the same as your current timezone.


Is your audience in another time zone?
If your primary audience is in another time zone, you can select their time zone for your start/end times.
For example, an East Coast-based Yoga Teacher (EST time zone) gives daily online classes to professionals before the workday. However, most of her students are in California (PST time zone).
To simplify things, the Yoga Teacher sets the Event time zone to California time, at 6:00 AM PST (knowing it's 9:00 AM EST), so her Event schedule matches her students' timetable, and she doesn't have to calculate the time zone conversion when viewing the Event on her Dashboard.
Note - Your Event page displays your Event times in local time, according to the IP address of the Event page visitor.
7. Occurs (frequency) - Select how often your Event will happen.

For multiple Events on the same day, you can select this:

8. Start time - Set what time your Event begins.
This is the start time of each Event Occurrence. For example, if you set your Event start time to 8:00pm EST, each recurring class, workshop, or seminar will start at 8:00pm EST.

9. Events end - Choose when your Recurring Events end.
on a particular date
after your preferred number of Events
This sets the end of your Event Occurrence schedule. For instance, your weekly recurring yoga classes end on December 9th, or your monthly seminars end after 12 Events.
3. Create your Event page
Build interest in your Event by adding a cover photo, title, and other descriptors.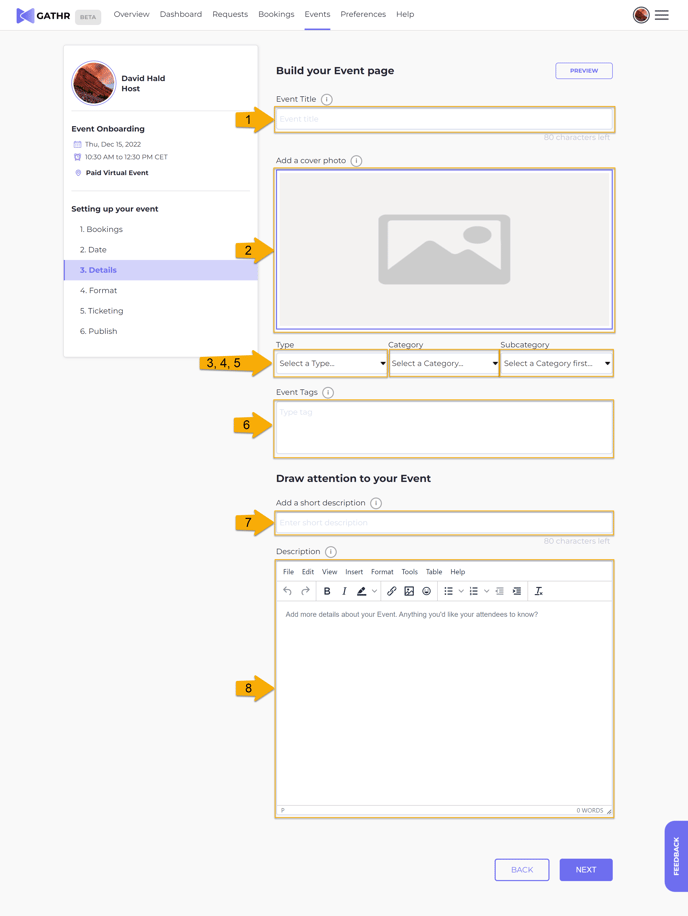 Event Title- What's your Event called?
Cover Photo - Add a photo to display on your Event page.
Event Type - What kind of Event is it? (required)
Category - Be specific to attract your target audience (required).
Subcategory - Give your audience an idea of what they're attending (required).
Event tags - Add keywords to set off your Event in search results (optional).
Short Description - Give a summary of your Event.
Description - Give details about the Event you want your audience to know.
Both your Recurring Event page and each Event Occurrence page will showcase all the same details you've input when creating your Event page.
Your potential audience lands on your Recurring Event page, where they can select any of your Event Occurrence dates to purchase tickets for.
4. Live stream Preferences (for virtual Events only)
Shape Attendees' Event experience.
For virtual Events, set your Live stream Preferences: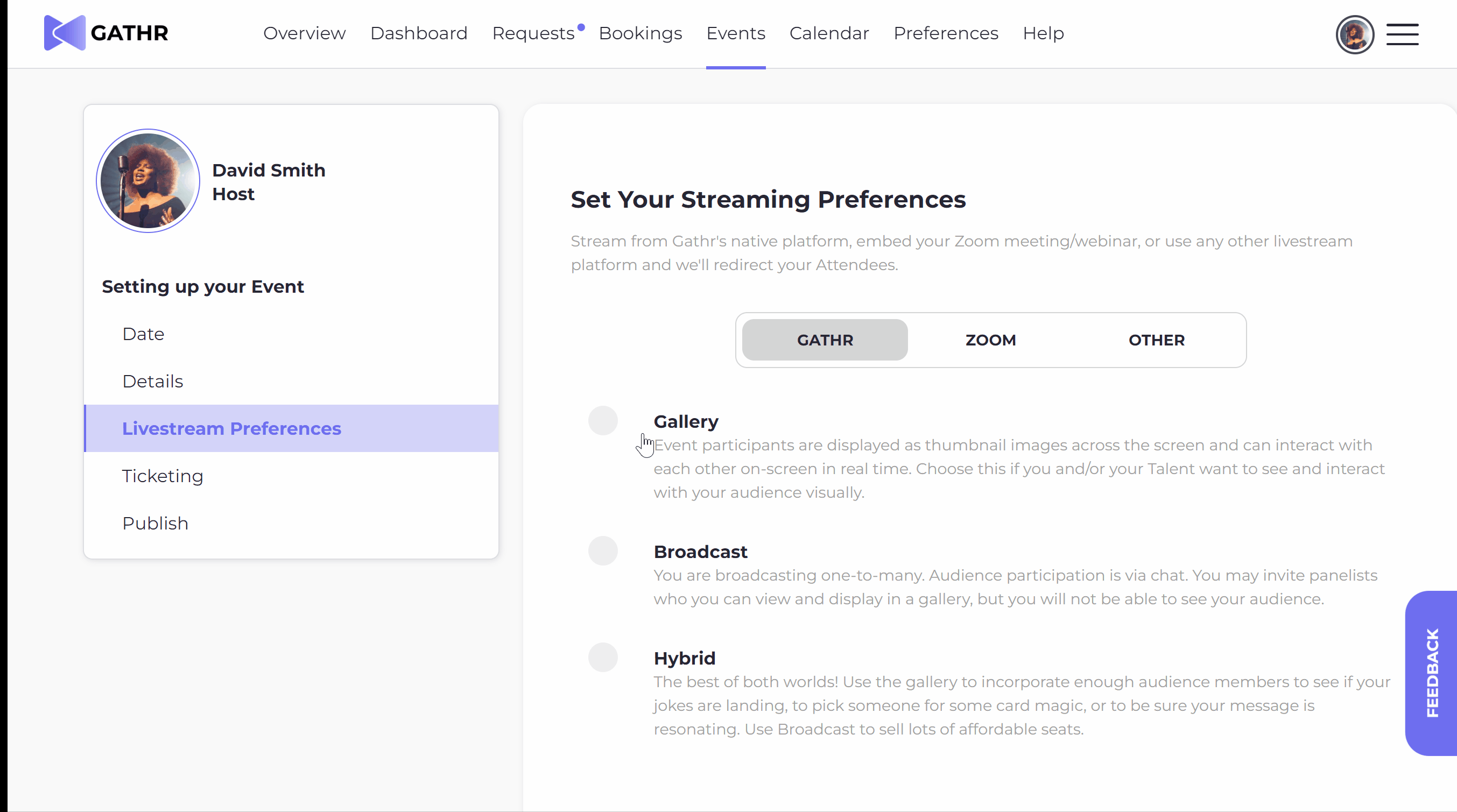 Choose from these live stream options:
Gathr
Gallery - Attendees are visible in thumbnails on-screen; Attendees and presenter/Talent can visually interact.
Broadcast - Only Presenters/Talent are visible during your Event. Your audience can participate via chat. You will not be able to see your audience.
Combined - Offer both Gallery and Broadcast experiences to your Attendees*

*Combined Format not available for Free Events.
Event links will be automatically generated for your Events, and accessible to Attendees in their ticket purchase confirmation emails.
Zoom
Easily link your Zoom account and automatically create your Zoom Event from Gathr or enter your Event information manually.


When you link your Zoom account with Gathr, your Event link will be automatically generated and accessible to Attendees in their ticket purchase confirmation emails.
Zoom uses the same URL for each Recurring Event Occurrence.
Other
Vimeo Live or YouTube Live - Embed your live stream directly onto the Gathr Watch page.
Twitch, Google Meets, Facebook Live - Live stream from your preferred platform. Your Attendees will be redirected to the link you provide.
For the Other platform options, you'll need to create separate URLs for each Event Occurrence.
For example, if you are hosting daily dance classes Monday through Friday, you'll need five URLs for your five dance classes
Still unsure which Format to choose? Discover which Event format is best for you:
5. Add ticket tiers
Name your ticket tiers, and set quantities and prices for each.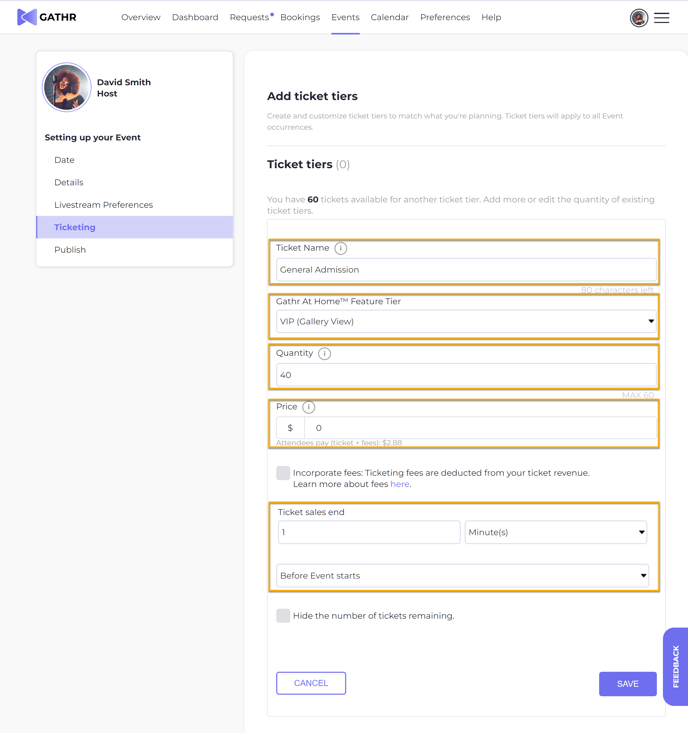 Name ticket tiers - Attendees are used to seeing different ticket tiers. Some standard ticket tiers are:


General Admission - Regular tickets
VIP - Offers Attendees something extra for a higher price.
Early Bird - Offers Attendees a discount for purchasing tickets earlier.
Student/Senior/Children/Member Price - Offers a discount for Attendees who are part of a specific group.

Set ticketing tiers - add multiple ticket tiers to your Event.
Set quantity - how many tickets do you want to sell at each tier? (For virtual Events, each Event format has different capacities)
Set ticket price (for Paid Events only) - You can see the Attendees' total cost and choose to include fees or not.
Set ticket sales end times - You can choose to end ticket sales anytime before your Event starts or ends. This is useful for setting up dynamic ticketing.
Examples of dynamic ticket pricing:
Your Event is on December 15, and you decide to offer:


General Admission ($20) from November 1 - 30
VIP ($50) from October 1 - December 15.
Last-Minute ($25) from December 1 - 15.


All ticket tier information you've entered applies to all your individual Event Occurrences. In other words, if you've got a recurring daily meditation class, your Monday class has the same ticketing details as your Thursday class - so do your Tuesday, Wednesday, Friday, Saturday, and Sunday classes.
6. Publish your Event
Make your Event Public or Private.