Gathr Cancellation Policy
At Gathr, we understand that clarity and communication are essential to your success. Because of this, each talent/venue profile is asked to select their preferred cancellation policy to ensure strong professional relationships for all parties involved in event booking.
Why Have A Cancellation Policy?
To prevent no-shows, late cancellations, and missed income
To establish a timeframe for canceling a booking or event with or without penalty.
To ensure deposit refundability
To ensure a clear direction for dispute resolution
How To Set Your Cancellation Policy
You will be able to select your preferred cancellation policy during your initial onboarding process. Each talent/venue profile will have its own cancellation policy which event hosts will be able to see during the booking process. You will have four options to choose from flexible, moderate, strict, and custom (see image below for further description).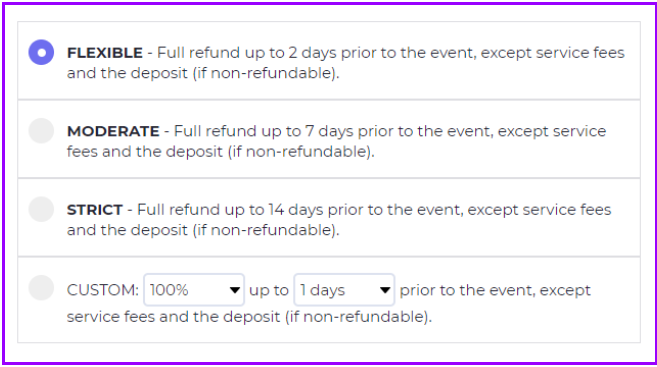 Note: It is also very important that you select your deposit amount and refundability settings at this time. Your default deposit is set to 50% with a Refundable status.

How To Update Your Cancellation Policy
You can update your cancellation policy at any time through your Preferences menu under the Booking Settings option. You will be able to access your Preferences through the top Navigation menu or the dropdown navigation menu.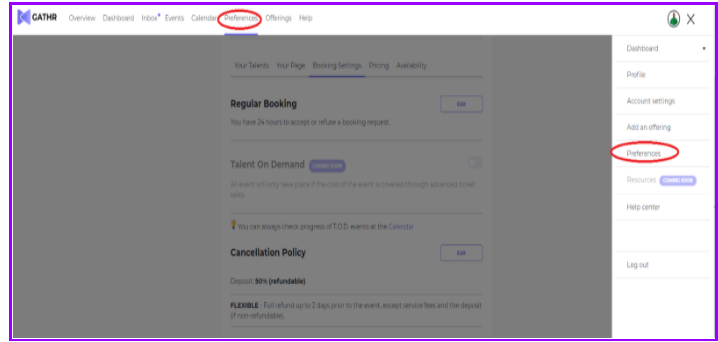 Note: Once a booking has been confirmed, the cancellation policy for that event is locked-in. Changes do not apply to existing bookings.
Preventing Cancellations
The best way to manage cancellations is to prevent them in the first place. Each event participant should keep these best practices in mind throughout the booking and event planning process.
Communication: Ensure that you are openly communicating with all event participants in a timely, respectful and efficient manner.
Availability: Update your availability regularly (learn how here) and pay special attention to times, dates, and time zones when accepting booking requests
Integrity: Proper representation of events, talent offerings, and event spaces is critical to preventing disputes and issues during the event planning and execution process. To learn more, please review our Community Guidelines .
Courtesy: Treat all event participants with the highest level of respect and kindness as is laid out in our Community Guidelines .
Managing Cancellations:
From time to time cancellations do happen and it is very important that all event participants take care to manage the process with courtesy and respect. During the cancellation process, you will be asked the reason for the cancellation. These reasons fall under two categories.
For Cause: If for any reason you feel compelled to cancel an event due to the actions or inactions of another event participant. This type of cancellation will fall under the "For Cause" category. This will require a response from the other participant to accept or decline your allegations in order for you to receive your deposit in full. We understand that some issues need additional support to resolve, to learn more about our dispute resolution process click here.
Note: Any cancellation request that is submitted will result in you pulling out of the event, regardless of the reason or the response from other event participants. This process is solely for resolving deposit and payment disputes.
Not For Cause: At times, event participants may need to cancel an event due to unforeseen circumstances and personal needs. This cancellation type will fall under the "Not For Cause" category. In this instance, your other event participants will be notified of your cancellation and your deposit will be refunded.
Frequently Asked Questions:
How do I know what my deposit amount should be? Pricing and deposit preferences are unique to each individual talent or event space. Click here to learn some best practices for pricing.
How do I cancel a booking (talent/venue)? You will be able to cancel your event for cause or not for cause from your event details page.
How do I cancel my event (host)? As a host, you can cancel your event from your event management page. Learn more about event cancellation here.
How do I book new talent/venue for an event? If the talent or venue initially booked for an event needs to cancel for any reason, a host can book new talent/venue to take their place. Learn more here .